Welcome back. Today I have something a little different than normal, but not too extraordinary. Marjorie Ann Designs has some great calendar titles and I have finally broke down and decided to start using my calendar so what a better way to decorate it than to create some March goodies for it.
The file that I am talking about can be found
here
and is called March Title (how fitting right?!) Now I took apart the file, but here is what it looks like when you get it all together.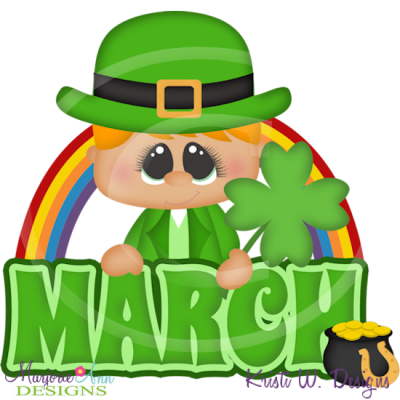 Awesome right?!! And there are so many different parts which you can keep together or use by themselves.
I decided to take the March title along with the pot of gold and to make them one piece so I could add it to the top of my calendar. It looks like this. Again these are all separate pieces which I pieced back together.
I then decided to take it a step further and to take the fancy little leprechaun and put him on St. Patrick's Day so I could keep track of the holidays. Here is what he looks like on his own.
I have a magnetic wall calendar so on the back of all of these pieces I used my mini Xyron magnetic tape dispenser and dispensed a small piece of magnet on them so that they would stick and so that I would be able to take them off and put on April's title for next month.
Thanks for stopping by today and don't forget to come back tomorrow for Digital Thursday!