Welcome back. I hope everyone had a great weekend. This was our first weekend doing "fall" things..you know like pumpkin picking, hay rides, and of course Apple Cider!! Yum yum! If you are not aware yet I absolutely LOVE LOVE LOVE the fall so of course I had a great time this weekend.
Today I have a Thanksgiving card to share with you that is so easy to throw together and is slightly comical!
The background paper comes from the
Sangria paper pack
and I wanted to use the other side but made two oppsies when cutting out the file on my Cricut and then decided to just simply run with it. This paper pack is perfect for the fall and features colors like pomegranate, eggplant, poppy, and champagne. You can see some more of my projects using this wonderful line
here
,
here
, and
here
.
The whole card is a shape card and comes from a
Marjorie Ann Designs
file called Eat More Veggies. I love the designs that this team come up with and I use them quite often (especially since I am on their design team.) If you have not played around with these easy shape cards then you definitely need to they are very quick and easy and as with all of the Marjorie Ann files there is a wide selection and they are simply adorable. This particular file can be found
here
.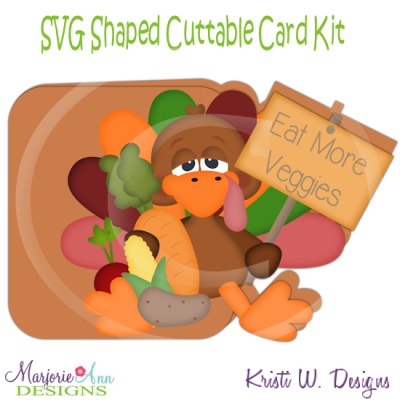 The other cool thing about these files is that you not only get the shape card but you also get the individual pieces so you can make other designs using that silly little turkey..or even those veggies. If you are interested in seeing some of my other Marjorie Ann Design shape cards you can check out a kids birthday invite out
here
and a shaped baby card
here
.
Thanks for stopping by today and as always I hope you were inspired.