Happy Monday! I hope everyone had a wonderful full filled weekend! Here in Upstate NY the leaves are changing in the mountains and it's always such a beautiful site to watch.
Today I decided to work a little on my "Get Well" card stash, which currently has no cards in it (oops..lol!) I picked up this sketch design from a sketch from last week, but I did not make the deadline in time to enter the card, so I decided to just share it with you instead.
That cute little Mouse is from Marjorie Ann Designs and is a file called
Get Well Wishes.
This is a really cute file to have on hand and works well with so many different ages, sexes, and genres. Here is a peak at the whole file.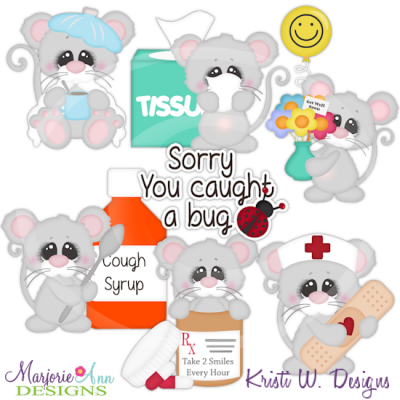 Since I need to increase my "Get Well" stash I will be using this file a couple more times to make some awesome and really cute cards. I'm actually picturing a shape card with that cute little band-aid nurse...oh the ideas!
Well thanks for stopping by today and I hope you enjoyed my Get Well card. I'll see you back here tomorrow for some holiday tags, which you will not want to miss!